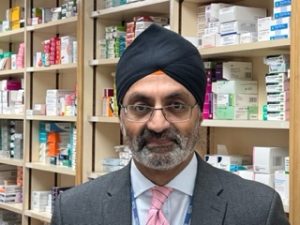 Ask Your Pharmacist Week is a great opportunity to spotlight pharmacists and the great work they all do to keep us healthy and safe. This year's theme for the campaign is "meet your local pharmacy team", so we asked pharmacist Raj Matharu, CEO, Community Pharmacy SEL, about the services available to residents in south east London.
"This week is 'Ask Your Pharmacist Week', but please be assured your local pharmacy is here for you all year round to answer your health-related queries," he underlines.
"As qualified healthcare professionals, we can help with a range of minor illnesses, such as coughs, colds, sore throats, tummy trouble – as well as general aches and pains. If we think it's more serious, we can help you get further help and may recommend you see a GP, nurse or other healthcare professional."
Some local pharmacies also offer free flu and COVID-19 vaccinations to those eligible. This includes those that are aged 65 or over, are pregnant, have a weakened immune system or live with someone who has a weakened immune system, are a frontline health or care worker or an unpaid carer. You can find your nearest walk in clinic, which includes many pharmacies, here.
"Did you know all pharmacists train for 5 years in the use of medicines?," continues Raj. "We're also qualified to advise on managing minor illnesses as well as health and wellbeing advice."
So next time you have a health concern, think of your local pharmacist. We're the NHS on your high street!"