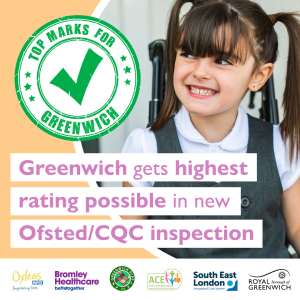 Our partnership working in Royal Greenwich with the Council, local schools, health services including Bromley Healthcare and Oxleas NHS Foundation Trust, and Greenwich Parent Carer Participation Forum, has been praised by Ofsted and the Care Quality Commission for 'going the extra mile' and for providing the 'right support at the right time' for children and young people with special educational needs and disabilities (SEND).
Commending services in Greenwich, inspectors said: "Children and young people with SEND and their families in Greenwich are front and centre of the local area partnership's work. Everyone has the best interests of the children and young people at heart."
Inspectors concluded that services 'typically lead to positive experiences and outcomes', which is the highest rating possible. This is one of the first few times this rating has been awarded since a new framework was introduced earlier this year.
Neil Kennett-Brown, Chief Operating Officer, NHS South East London ICB (Greenwich), said: "We are delighted that the strength and maturity of our partnership working has been recognised, enabling joined up services for our children and their families."
Councillor Matt Morrow, Cabinet Member for Children and Young People, said: "It's one of Our Greenwich missions to make sure that children and young people reach their full potential, and inspectors have found that that is exactly what we are doing.
"This report is the result of many years of hard work and dedication by teams and schools that support vulnerable families across the borough. Inspectors praised the way we work with schools, the NHS, and the voluntary sector, which I know has been so pivotal to ensuring that families get the right level support, at the right time. Colleagues across the borough should be extremely proud of the difference that they make to the lives of families."
Kafayat Eletu, Chair of the Greenwich Parent Carer Participation Forum, said: "The SEND inspection was very thorough, and it has helped show the extent of collaboration in the Royal Borough of Greenwich and a culture where those in authority listen to our views and are keen to improve the lives of children and young people with SEND and their families."
Report highlights include:
'The local area partnership in Greenwich is mature and fully integrated'
'Strong and embedded relationships with services across education, health and care mean that children and young people's needs are met effectively'
'The voice of children and young people, parents and carers is heard loud and clear in Greenwich'
'Professionals regularly go the extra mile to make sure that children and young people's needs are met effectively.'
'Leaders walk with [families] on their journey.'
Read the Ofsted/CQC report in full