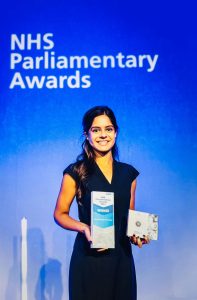 Dr Devina Maru had a memorable 48 hours this week – twice winning national recognition in-between attending the NHS 75 celebration at Westminster Abbey and passing her final GP exams.
She picked up both the NHS Rising Star Award at the NHS Parliamentary Awards and the Prime Minister's Point of Light Award on Wednesday, the 75th anniversary of the health service.
The next day, Devina, who has worked as a GP trainee in South East London for the past four years, and at Manor Brook surgery in Blackheath for the past 12 months, heard that she has passed her final GP exams to round off an incredible 48 hours.
Devina said: "It was amazing to win these awards on the 75th anniversary of the NHS. I attended the service at Westminster Abbey before the Parliamentary Awards and it was wonderful to join in the celebrations.
"The awards ceremony at the QEII Conference Centre was a great experience. There really were some exceptional candidates there and I was surprised, shocked and humbled to receive the rising star award."
Devina was nominated for the Parliamentary Awards for being passionate about service improvement, patient care, improving training and going above and beyond the core requirements of a GP trainee. She co-founded the Health Pioneers Charity,
which works to reduce health and education inequalities for children and young people in the most deprived areas of London.
Passionate about empowering the 12 million people with hearing loss in the UK, Devina has worked with the Royal National Institute for Deaf People and NHS England to produce a range of vital resources for GP surgeries. During the Covid-19 pandemic, when GPs and other staff were required to wear face masks, it was impossible for people with hearing loss to lip-read. Devina produced guidance for staff that was used across the country.
Devina is also the first GP trainee in the history of the Royal College of General Practitioners to be selected as a Clinical Champion, adding to her achievement in securing a place on the National Medical Director's Fellowship, a scheme to develop a growing pool of future medical leaders who will shape future healthcare.
The Prime Minister's Points of Light Awards are made daily to recognise outstanding individual volunteers who are making a difference in their community. Devina was recognise on the 75th anniversary for her work with young people and people with hearing loss.
"What an amazing honour it was to receive this Points of Light Award from the Prime Minister, I am humbled and deeply grateful. I'm delighted to have received it on the NHS 75th Birthday as my voluntary work for health inequalities, young people and those with hidden disabilities have all been done while working as a primary care doctor in Greenwich."
Dr Eugenia Lee, Programme Director, Greenwich GP Training Programme said: "Devina has been a delight to have as a trainee in Greenwich. Her devotion to better healthcare is exceptional.
"I am so pleased for her and I look forward to seeing what else she achieves in her coming years in the NHS."
Dr Jonty Heaversedge, Joint Medical Director South East London ICS added: "I was thrilled to hear that Devina's incredible contribution to her profession and the local community has been recognised. It is good to be reminded of the amazing young talent that there is in primary care. South East London is lucky to have such an inspirational leader contributing to the care of our population."
Read about all of the winners at the NHS 75 Parliamentary Awards.
Read more about Devina's Points of Light Award.