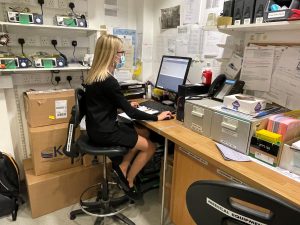 King's College Hospital NHS Foundation Trust's supported internship scheme has helped five young adults with learning disabilities and/or autism find full-time paid employment.
Amber Farbrother, 19, took part in the supported internship scheme the Trust ran at the Princess Royal University Hospital (PRUH), Farnborough Common, and became a full-time member of staff at King's in October 2022.
Amber, who is autistic, now works in the medical equipment library at the PRUH and said that taking part in the internship programme had made her grow as a person. "When I started the internship, I was quite a negative person," Amber said: "But after just a few months at the PRUH I changed and became a grown up, confident person. I changed massively during the internship."
Throughout the 2021-22 academic year, the Trust partnered with London South East Colleges Bromley and Bromley Council to deliver a supported internship programme at the PRUH to young people with learning disabilities and/or autism.
Joining the Trust in September 2021, the interns worked across a number of areas in the hospital, gaining valuable work experience to help them find paid employment post-internship.
Amber was one of the successful interns to secure a paid, full-time role at the Trust after the internship, and says that the supported internship scheme helped her prepare for her new role: "The internship helped me learn how to behave in the workplace, how to present myself and act in front of others, how to create a CV, which I did from scratch, and how to apply for jobs."
Speaking about the internship, Amber said she would recommend it to any student with a learning disability and/or autism: "I loved all of it, it was a really great experience. I loved meeting new people and learning new things.
"I would 100% recommend the internship to other students with learning disabilities and/or autism."
More information about internships at King's can be found here.