We are thrilled to share the news that our innovative #DontMissYourVaccine campaign, in collaboration with local organisations and Lynn, has been awarded Gold in the 'Healthcare providers' category at the esteemed Sabre Awards EMEA 2023. This campaign was designed to create a buzz and anticipation around Freedom Day in July 2021, as the Covid-19 vaccination programme was extended to all adults aged 18 and over in south east London.
The campaign also won the 'Data in campaign planning and development' category in the related 'In2 Sabre awards', and was also awarded certificates of excellence in 'Behavioural science', 'Measurement and post-campaign analysis', 'Combating disinformation' and 'Agency of the future'.
The SABRE Awards EMEA received over 2,000 entries this year, and around 400 campaigns were shortlisted for recognition of superior achievement in branding, reputation and engagement. Our #DontMissYourVaccine campaign was shortlisted and emerged as the winner from a pool of four campaigns in the Healthcare Providers category.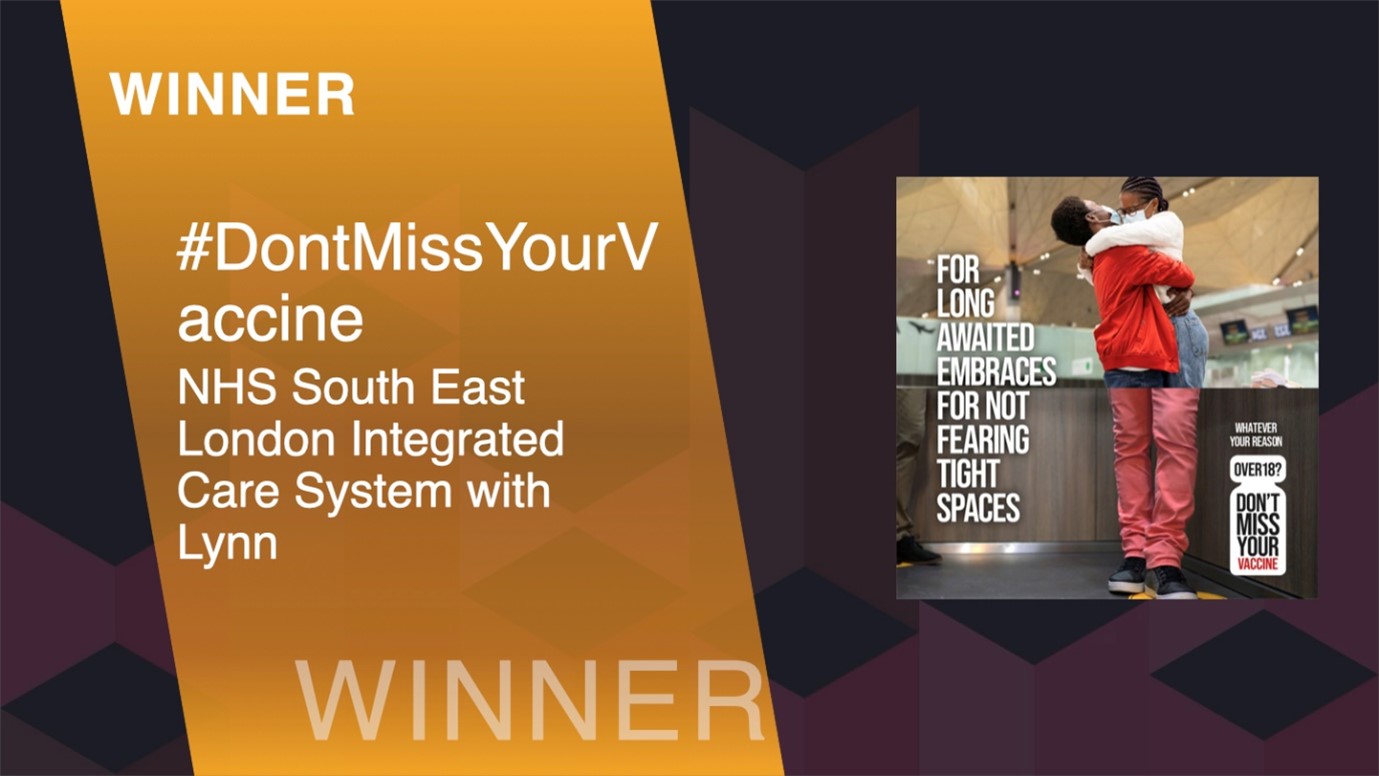 Our #DontMissYourVaccine campaign was targeted towards younger individuals, reminding them of the personal benefits available when vaccinated against Covid-19. We added a local flavour to the national work being done to reach out to younger people, boosting vaccination rates and ultimately saving lives.
As Covid-19 cases continued to rise in London, the South East London Integrated Care System (ICS) came together with NHS organisations, local authorities and the community and voluntary sector to ensure that as many people as possible could access the life-saving vaccine. Daily walk-in services were available across every borough, from places of worship and community centres to local sports stadiums.
Administering as many vaccine doses as possible was essential to help south east London return to normal. The campaign helped us improve vaccination rates across our communities, particularly amongst young people who were the last adult group to be invited for their vaccines.
We are deeply honoured to receive this award, and it is a testament to the hard work of everyone involved. We firmly believe that this success would not have been possible without the support of our partners and local people, who took part and shared their stories and questions. This recognition is a celebration of their dedication and commitment to making our campaign a success, and we look forward to continuing our partnership with local organisations and Lynn PR in future projects.