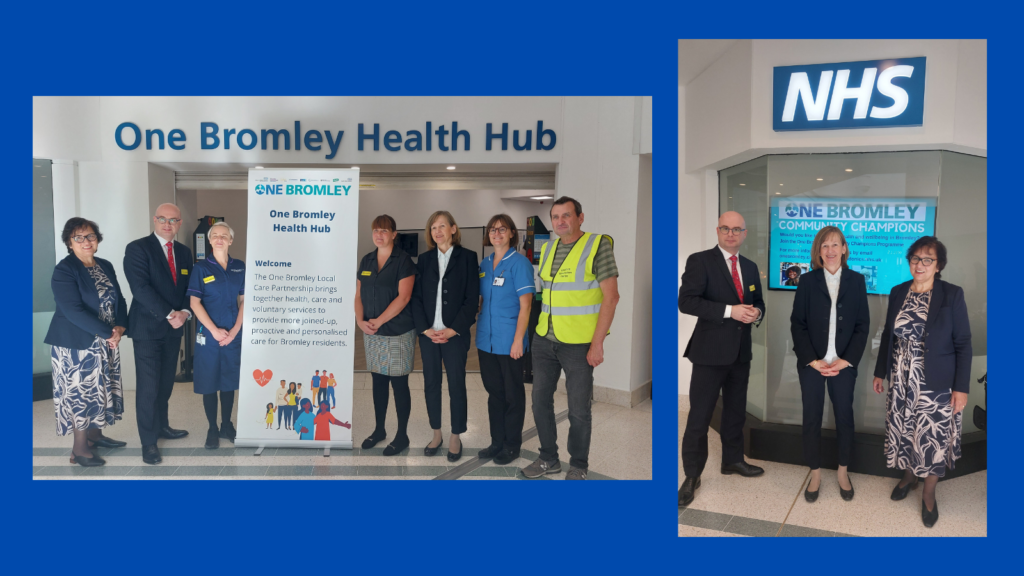 On Thursday 6 October, a new health and care facility officially opened at The Glades shopping centre in Bromley town centre.
The new One Bromley Health Hub will offer a range of health and care services to local people, bring care closer to home and in a convenient location.
The first member of the partnership to start running a service at the hub is the Princess Royal University Hospital (PRUH), which has a team of vaccinators. They are administering the COVID-19 autumn booster and polio vaccine to eligible groups. This replaces the vaccination site at the nearby Bromley Civic Centre, which is now closed.
The health hub is an initiative by the One Bromley Local Care Partnership, which brings together health, care and voluntary services to work together in a more joined up way.
The partnership comprises King's College Hospital NHS Foundation Trust (which runs the Princess Royal University Hospital), Oxleas NHS Foundation Trust, NHS South East London Integrated Care Board, Bromley Council, Bromley Healthcare, Bromley GP Alliance, St Christopher's Hospice, Bromley Primary Care Networks and Bromley Third Sector Enterprise. Representatives from the partnership were in attendance at the opening.
Commenting on the opening, Jonathan Lofthouse, Site Chief Executive at the Princess Royal University Hospital (PRUH) and One Bromley Executive Chair, said, "The One Bromley Health Hub is an excellent example of health and care services working together to provide local, joined up care for the people of Bromley, and I'm delighted that we are the first partner to make use of the new facility.
"I'd like to thank Bromley Council for allowing us to use the Civic Centre to administer tens of thousands of COVID-19 vaccines over the last 18 months, and I'm very proud that our dedicated team of vaccinators are able to continue providing this vital service in the new hub. I would urge all those who are eligible for a COVID-19, flu or polio vaccine – both Bromley residents and those just visiting the borough – to book an appointment."
Dr Angela Bhan, Consultant in Public Health and Bromley Place Based Executive Director said, "The One Bromley Health Hub is the first of its kind in the borough and over time will offer a range of health and care services in this central and convenient location. My grateful thanks to the vaccination team already in the hub and to all our doctors, nurses, pharmacists, and many other staff as well as volunteers, who continue to work tirelessly to provide life-saving vaccinations in many other locations across Bromley."
Dr Nada Lemic, Director of Public Health for Bromley Council said, "Bromley Council is pleased to link with health partners to continue to deliver increasingly more joined-up services for residents, and now from this new Health Hub too – conveniently situated right in the heart of Bromley. We are also very proud to have been able to support the vaccination centre which was situated at the Civic Centre until very recently and, on behalf of the Council, I should like to thank everyone involved for all their hard work over the past 18 months to deliver life-saving vaccines to our residents."
Volunteers Sue Robinson and Duncan Fairbanks have been supporting the vaccination programme for the last 18 months and are now supporting the One Bromley Health Hub.
Sue said, "As volunteers, we welcome people, put them at ease and make them feel special. This new site in the centre of Bromley is very convenient.
"We proactively talk to patients and help them to settle down. We have supported the vaccination programme for a long time and have a very good relationship with the staff."
Duncan had his Covid booster recently at the One Bromley Health Hub. "Getting my vaccination was a very smooth process, very professional. Staff showed a lot of empathy. If you feel a bit anxious, don't worry, they will put your worries away," he said.
The One Bromley Health Hub is open Tuesday to Saturday, between 0830 and 1730, and is located on the upper level of the shopping Centre.
Check the latest offer on Covid-19 and Polio vaccinations at the One Bromley Health Hub.  Further services will be launched at the hub over the coming months.