The One Bromley Children's Hospital at Home service has been shortlisted for a HSJ Award 2023 in the Primary/Community Care Innovation category. This recognises our efforts to bring healthcare closer to home for families in Bromley.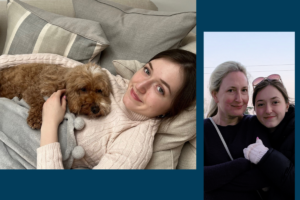 Launched in 2021 as a One Bromley partnership initiative between Bromley Healthcare's community nursing team, the Princess Royal University Hospital Paediatric team, and the South East London Integrated Care Board, the service showcases the transformative potential of integrated care. The integrated hospital at home team provides home treatments for children and young people who are seriously unwell but don't necessarily need to stay in the hospital. The illnesses treated include common childhood conditions such as bronchiolitis and asthma. Treating children and young people at home frees up hospital capacity, but most importantly provides care in a familiar and comforting setting, allowing families to stay together at home.
Cait Lewis, the Service Lead, said, "We are delighted to have been shortlisted. It brings immense joy and a sense of accomplishment to see the positive impact our service has made to children, young people and their families. This recognition is not just for our dedicated team but a testament to the resilience and strength of the families we have the privilege to serve."
Dr Julia Phillips, Consultant Paediatrician at the Princess Royal University Hospital, part of King's College Hospital NHS Foundation Trust added, "Our children's hospital at home services is a great example of how organisations working together can make a real difference to people's lives.  Through the integration of children's hospital and community services, more young people are receiving a level of medical care and support from the comfort of their own home that you would only usually get in hospital".
Since its start in 2021, the service has avoided 956 unnecessary hospital admissions, saved nearly £1 million which can be invested into other patient services, and spared families 2,100 days in hospital.
The families who used the service have praised it:
"Hospital at Home enabled us to be discharged earlier. To stay in hospital for another 48 hours for essentially 1 hour of care (2 doses of IV antibiotics) would have been much more stressful, challenging, disruptive and upsetting for both my baby, myself and our family. Being at home allowed us to continue a normal routine, spend time with other family members (siblings weren't allowed to visit due to covid) and care for my baby more easily."
"The team were great from start to finish. They communicated really well. They made me and my son feel super comfortable and supported and cared for. They sought out treatment to help him feel a little better whilst reassuring me throughout. They were all so professional and in a weird way when we were discharged, I thought I'd miss their daily visits."
The service has also been shortlisted in two categories for the LaingBuisson Awards – the wider hospital at home team for Best in Healthcare Outcomes, and Bromley Healthcare's community nursing team, who deliver the service to families within their homes, for the Excellence in Nursing Practice award, reflecting the high standards of practice the team upholds, the impact of the service, and of their compassionate care.
Find out more about the One Bromley hospital at home service and the difference it is making to children, young people and their families by reading Rachel and Daisy's story.