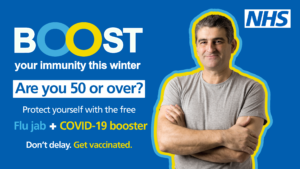 The NHS is also reminding people that the offer of autumn booster or flu jab, regardless of when you were first invited, remains open.  As well as people aged 50 and over, frontline health and social care workers and those at higher risk due to a weakened immune system, a learning disability or pregnancy, are also being asked to come forward. A full list of people eligible for vaccinations is included below. 
Approximately 26 million people are eligible for an autumn Covid-19 booster, while as many as 33 million people can get an annual flu jab 
Booking a COVID-19 vaccination 
For more details and how to book an appointment please visit our COVID-19 section or visit: NHS website
Anyone eligible can book an appointment online or by calling 119. 
Booking a flu vaccine 
The public can still book flu vaccinations as usual through their GP practice or by visiting one of the many thousands of participating community pharmacies. 
For a full list of pharmacies offering a free NHS flu vaccination, including those not part of the NHS pilot, please visit the nhs.uk website. 
Pharmacies are taking appointment bookings for flu vaccination online. 
More information on the NHS England website. 
Groups eligible for the free flu and COVID-19 vaccines this year are: 
Free flu jab
All adults aged 50 years and over
Those in long-stay residential care homes
Carers
Close contacts of immunocompromised individuals
Frontline health and social care workers
All children aged 2 to 10 years on 31st Aug 2022 (see Nasal Flu vaccine)
Those aged 6 months to 65 years in at-risk groups, including people with the following health conditions: *Respiratory (lung) diseases, including asthma *Heart disease, kidney disease or liver disease *Neurological (brain or nerve) conditions including learning disability *Diabetes (see a short film of a woman with Type 1 diabetes talking about why she gets the flu vaccine) *A severely weakened immune system (immunosuppression), a missing spleen, sickle cell anaemia or coeliac disease *Being seriously overweight (BMI of 40 and above
Free COVID jab
All adults aged 50 years and over
Pregnant women
Residents in a care home for older adults and staff working in care homes for older adults
Persons aged 16 to 49 years who are carers
Persons aged 5 to 49 years who are household contacts of people with immunosuppression
Frontline health and social care workers
Persons aged 5 to 49 years in a clinical risk group, as set out in the Green Book, chapter 14a, tables 3 and 4