The NHS, councils and community groups have organised a range of events to mark the 75th anniversary of the arrival of the Empire Windrush this month – including, in Lambeth and Southwark, a walk of witness on Thursday.
Many of the Windrush passengers spent their first month in rented lodgings in the deep shelter underneath Clapham South Tube station in Lambeth before settling in Brixton, the site of the nearest labour exchange.
To mark that long and intense link with the Windrush Generation, Lambeth community groups are holding a walk from the National Windrush Memorial at Waterloo Station to Southwark Cathedral on Thursday as part of a month of events.
The Walk of Witness will begin with a 20-minute gathering in front of the National Windrush Monument at Waterloo Station, before embarking on the 1.2 miles walk, which will take around 40 minutes. The route will see walkers using the pavement throughout, and every effort has been taken to avoid busy roads and be mobility friendly.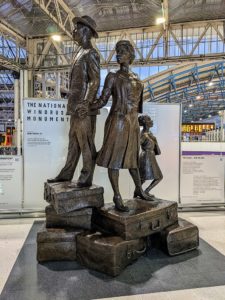 The Bexley Wellbeing Partnership is honouring Windrush elders with a special project in collaboration with local youth charity, Active Horizons. Young volunteers have been recruited to film interviews with members of the Windrush generation living in Bexley to create a film, honouring their legacy and contribution to the NHS. As well as the film, a special podcast and booklet will be released at a special reception on 18 July.
Southwark Council and local community groups have a full programme of events – including a special event at 6pm on Wednesday that is being livestreamed (tickets are sold out) and the annual Radiate Windrush festival this weekend.
Lewisham commemorations and celebrations culminate in a special event of poems, singing and readings at the Broadway theatre at 7pm on Thursday.
Royal Museums Greenwich, including the National Maritime Museum,  are holding special events – including a day of song, dance and conversation at the National Maritime Museum from 11am-4pm.