Recently, the South East London Integrated Care System's (ICS) Collaborate Programme was launched as part of the existing System Leadership Academy, which develops and connects 30 leaders from across south east London.
On launch day, a panel of leaders from across the ICS, Folake Segun, Paul Najsarek & Anu Singh, took time out of their busy schedules to share their insights with participants about what system leadership meant to them.
Talking about the impact of the programme, Anu Singh said: "The Collaborate programme is an example of the system creating the space and time for people to come together; partnership working is the cornerstone of our ICS strategy."
On the day, special guests Dr Don Berwick, (former Administrator of the Centers for Medicare and Medicaid Services under Obama), and Professor Hahrie Han, (Inaugural Director of the SNF Agora Institute, the Stavros Niarchos Foundation Professor of Political Science and Faculty Director of the P3 Research Lab at Johns Hopkins University), also dialled in to give the community inspirational advice, drawing on their own extensive experiences.
Giving advice on the impact and importance of leadership, Professor Hahrie Han said "You don't need a leader when you have certainty; you need a leader to help navigate uncertainty."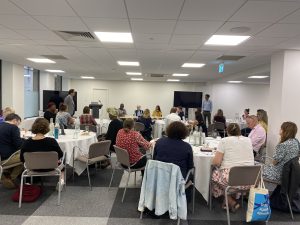 The event also saw the Collaborate cohort themselves identifying the system-level challenges they would like to work on together throughout the duration of the programme, demonstrating the incredible impact this group is ready to drive for the ICS and for South East London communities. These challenges included improving population health and tackling health inequalities through a culture shift towards Population Health Management (PHM), bringing 'sustainable value' into our approach to transformation and change, and supporting people to live 'well' with dementia.