Raymond Sheehy, Chief Executive of Bridge Support, met with social care minister Helen Whateley and NHS and voluntary sector providers to discuss the future of mental health services.
Sheehy urged the minister to emulate the recovery college provided by Bridge Support in Greenwich (a range of courses and workshops to support people recovering from mental ill health and substance abuse) on a wider scale.
Bridge Support has already helped more than 3,000 people in Greenwich to rebuild their lives in the community by learning personal, social, academic and practical life skills. An independent study has shown that for every 300 people supported, the local NHS saves more than £400,000 because most have fewer GP appointments and are less likely to experience crises which trigger attendance at an emergency department.[1]
Raymond explains: "By attending courses and workshops at a recovery college based outside the traditional hospital grounds, students can walk out the door and straight back into the neighbourhoods and communities where they are living and working."
The charity's 'Bridge Back Home' programme also supports residents in Greenwich, Bexley and Bromley, as well as other patients that have been admitted to the Queen Elizabeth Hospital in Woolwich. The service helps people who are well enough to leave hospital but lack the tools needed to lead independent lives at home. This in turn reduces the need for expensive in-patient treatments and lightens the burden on the taxpayer.
Of the 600 south east London patients the charity has supported following their discharge from long hospital stays over the last two years, fewer than 50 have been readmitted.
Cabinet Member for Health and Adults' Social Care, Cllr Denise Scott-McDonald said:
"Bridge have supported hundreds of residents in a way that others could not, and I am thrilled that their working structure and ideas are being considered by ministers nationally.
It's so important that those who have received in-patient support have a solid way of integrating back into the community. Not only does this work help people, but it also relieves capacity pressures of the local NHS networks."
The charity also works with the local NHS across south London to support ex-offenders with mental health problems through their TILT programme. TILT provides round-the-clock support from highly-trained staff, who teach ex-offenders a range of real-life skills to ease their transition back into society.
The programme also provides accommodation in the community, built around a residential facility with a homely environment, to help the people who use the service live more independently.
Raymond explains: "The problem is ex-offenders often don't get the support they need to reintegrate with the community successfully. More than half of the people released from UK prisons reoffend in the first year while others end up in a medium secure hospital that can cost up to £185,000 per year. Over the last 20 years, only around 3% of offenders supported by the TILT programme go on to be returned to prison.
"Around two-thirds of people supported by the TILT programme move on to independent living or to accommodation with less support. Again, that is good for the individual and the taxpayer."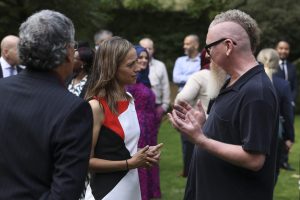 Raymond was among the first cohort of 30 managers and clinicians from across the integrated care system to take part in the groundbreaking Collaborate leadership training programme, an experience he feels gave him the confidence to make the case for these services.
"Probably the key learning from the training programme was the need to highlight the case for change and to explain the potential of new ways of working. It did really prepare me for just this sort of meeting."
[1] Wels, J. (2016), An Evaluation of the Greenwich Recovery College, University of Greenwich Department of Adult Nursing and Paramedic Science, https://www.bridgesupport.org/wp-content/uploads/2019/01/Enc-4.1-Greenwich-University-Evaluation-Report-August-2016-Final.pdf