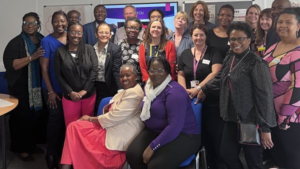 South London Partnership (SLP) Nurse Development Programme has been shortlisted for the Nursing Times Workforce Awards 2022.
The Programme was shortlisted for the following two awards:
Best Employer for Diversity and Inclusion
Diversity and Inclusion Champion of the Year- LaToya Martin (SLP Nurse Development programme manager)
The SLP Nurse Development Programme is committed to providing the nurse workforce with more opportunities to develop their skills and careers in south London. Through this programme, nurses can begin, progress, and advance their mental health nursing career in in a structured and innovative way.
As part of the SLP Nurse Development Programme, recent graduates of the BAME Leadership Course have proven successful with,
75% nurses having a better understanding of application processes and how to create successful interview outcomes.
37% staff successfully appointed to senior roles since start of the programme.
70% of participants applying for more senior jobs and all being shortlisted, with more participants currently at interview stage.
100% of nurses assessing their leadership style and receiving feedback on their leadership style.
Jeremy Walsh, SLP Director says 'Developing our nurse workforce through this programme ultimately results in better patient care, but also a more engaged and skilled workforce means that we can plan and deliver our transformation work with more certainty knowing our nurses are wanting to develop their careers within south London'.
SLP congratulates Latoya and all the programme participants on their success.
The South London Partnership Mental Health Services Collaborative (SLP) is a Provider Collaborative involving Oxleas NHS Foundation Trust, South London and Maudsley NHS Foundation Trust, South West London and St Georges NHS Foundation Trust.
The SLP collectively delivers mental health services to a population of more than 3.6 million people across south London (south east London ICS and south west London ICS) and works across the two ICSs and its borough partnerships to do so.
Find out more about Provider Collaboratives.