Aged 21 and fortified only by the friends made on the three-week journey from the Caribbean, Madree Murray-Audain stared out despondently at the dark December Southampton skies.
She reflected on all that she had heard about the delights of the mother country.
Whisked straight from the ship to a north London hospital around where she was to start her training, even the bright lights expected in the capital were largely hidden by the 'dreary' mist and drizzle.
That was 1965 and 37 years later, via a circuitous route, she had a second start in England and the NHS, as a midwife at Lewisham Hospital. By that time, her daughter, Carol-Ann Murray, had started on an NHS nursing career that would lead to her current role at the ICB.
Madree says: "I made up my mind about the weather. I made up my mind that it was dreary. We had a different concept about Britain in the West Indies. But the friends I had made on the boat over were all training together at the Whittington Hospital with me and most of us were from Trinidad & Tobago."
There was – and is – no escaping the cold and the memories of it though.
"We had no refrigerator in our nurses' accommodation but we didn't need one as we just put our food on the windowsill."
During their spare time, Madree and her friends found their feet in the big city by mixing with West Indians who had made the journey years earlier.
Despite the shock of the cold, Madree ventured further north after she completed her nurse training.
"I wanted to see more of England so I went to work in the maternity unit at York City Hospital for two years."
It was here that she had one of her most unpleasant experiences of racism in the workplace.
"Racism was always there, but I must say that the British are very diplomatic. You see it in your patients but I had one experience that really shocked me and I felt sad about that because it was the late 1960s. Like many white Rhodesians and South Africans at that time, this woman came to England to give birth. It shocked me because she was a clergyman's wife as it showed racism runs very deep.
"I told the Ward Sister that this lady wants an English nurse and her face went red as she said 'how dare she'. Most of the midwives were West Indian, with a few Irish and Scottish women, so people like that didn't have much choice. A lot of the English nurses went into administration."
Having started her midwifery training at York, she moved down to Hertfordshire, completing her training in 1970 and working as a midwife at Watford General.
Sadly, however, right wing extremists rioting against the very presence of immigrants spurred Madree into questioning whether 1970s Britain was the place to raise her family. The NHS lost a dedicated midwife for 30 years when Madree decided it wasn't and returned to Trinidad.
Her return to London in 2002 was obviously less of a shock than her first – and she had the delights of both her adult children and 21st century south London to enjoy. Completing her return to practice midwifery training at King's College, Madree worked as a midwife at Lewisham Hospital until a well-earned retirement in 2009.
Madree recalls shocking colleagues with an old payslip, kept from her days as a trainee at the Whittington. Monthly pay after deductions was £8.
Around a decade earlier, her daughter, Carol-Ann, had arrived to train for a career as a mental health nurse – a path that has seen her rise to the role of Associate Director of the SEL Learning Disabilities and Autism programme.
Carol-Ann says: "Of course I knew my mum was a nurse but one of the main motivations for coming into nursing was to help young people and that was why I chose mental health nursing. I felt that I was very fortunate having had a good upbringing with a loving extended family, and I knew a lot of people didn't have that."
Madree says: "I encouraged Carol-Ann to express herself – my generation couldn't. She had a better education than we had so she could choose. I encouraged her to do things I didn't have the chance to do."
Carol-Ann recalls: "When I said I wanted to do mental health she encouraged me to do as much as I could so I could have options. I listened to her about those further opportunities and went on to do my Masters."
Madree gets to follow her daughter's progress at close quarters as she is in the happy position of spending the winters in Trinidad and the summers living with Carol-Ann.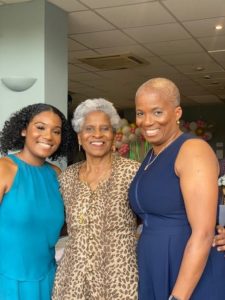 "I love London. I came here for my youth and it is one of my favourite places."
Reflecting on the Windrush 75th anniversary coinciding with the NHS's 75th birthday, she says: "We built the NHS – cleaners and kitchen workers as well as the nurses. I would go to the homes of a lot of West Indian friends who came here earlier than me and they would tell us of their early experiences.
"To be honest I never had bad experiences from colleagues – they treated me with respect and care. It was not all bad."
That may be, but, as Carol-Ann adds, these weeks are a chance to remember the struggles that often faced  those who built the NHS while we carry on their work.