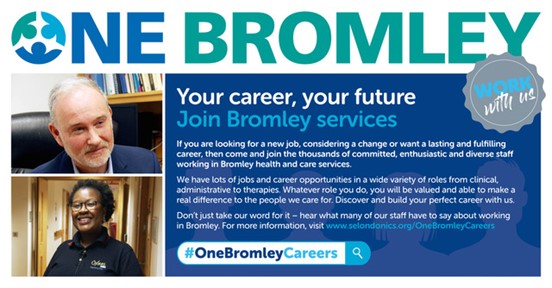 If you are looking for a new job, considering a change or want a lasting and fulfilling career, then join the thousands of committed, enthusiastic and diverse people working in Bromley health and care services. There are lots of different jobs and career opportunities on offer, in a wide variety of roles from clinical, to administration to therapies. Whatever role you do, you will be valued and able to make a real difference to the people we care for. Discover and build your perfect career with us.
Health and care services in Bromley work together as part of the One Bromley Local Care Partnership to provide joined-up care for Bromley residents. Together we are launching our new One Bromley Careers campaign to promote the many job and career opportunities available in our organisations, and show how much Bromley has to offer as somewhere to live and work. One Bromley is a pioneer in providing award-winning, joined-up proactive care and working in partnership to help over 365,000 residents stay well. Our services are provided from many places across Bromley including hospital, community, GP practices and at home.
Dr Angela Bhan, Place Executive Lead for Bromley and Public Health Consultant said, "There has never been a better time to come and work in Bromley health and care services. Innovation, prevention of ill-health, care closer to home, new technologies and partnership working are changing the way we care for local people, which provides exciting opportunities for varied and fulfilling careers. From school leavers to those wanting a flexible retirement, there really is something for everyone. Bromley staff do incredible and fulfilling work, making a real difference to people's lives. They tell us the best things about working in our services are being part of a team, working as part of a collaborative and diverse workforce, being able to contribute and make a real difference, feeling valued and having the chance to work across our organisations to provide joined-up care for residents. I have worked in Bromley for most of my life and would encourage anyone looking for a new opportunity or a lasting and fulfilling career to join us".
Ade Adetosoye CBE, Chief Executive of Bromley Council said, "We are proud of our vibrant borough and want people to make their homes in Bromley and prosper in a safe, clean and green environment great for today and for a sustainable future. With great transport links to the heart of London, excellent schools, a wide variety of green spaces, local attractions, many places of worship, varied accommodation and great high streets, restaurants and bars, Bromley has so much to offer. Our 'Making Bromley Even Better' strategy aims to create an environment where individuals and communities can thrive and where people can lead healthier and more independent, self-reliant lifestyles. Come and join us in Bromley and discover what a fantastic place it is to live and work".
Charmaine Malcolm works for Bromley Council as Head of Professional Practice/Principal Child and Family Social Worker
"The highlight of my role is working with children and families where we have been able to keep children in their family homes. In Bromley we share decisions, so we share the risk and as practitioners see ourselves as leaders who make positive differences to children and their families. Salaries are competitive and there are many benefits".
Dr Presheena Howell works in primary care as a GP
"There aren't many jobs where you have the opportunity to change people's lives but being a GP, you definitely get the opportunity to do that several times a day.
"I love working here, with friendly colleagues, immersed in a community where you can watch families grow. It's a really nice place for us to live and meet young families. And my kids go to an awesome school."
Victor Sánchez-Castrillón works at the Princess Royal University Hospital, run by King's College Hospital NHS Foundation Trust, as a Senior Head of Nursing for Surgery, Theatres, Anaesthetics and Endoscopy
"There are so many opportunities at the hospital and I really enjoy my work. There are many amenities available across Bromley including easy transport to central London."
For more information on why you should come and work with us in Bromley, including current vacancies and opportunities, please visit www.selondonics.org/OneBromleyCareers