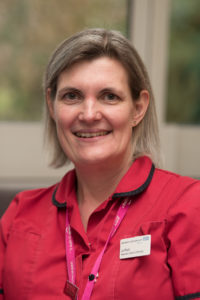 Should we be worried about COVID-19 and flu (influenza)?
"COVID-19 and flu spread more quickly in winter and can cause serious illness. If you're 50 years or over, have certain health conditions or are pregnant you are eligible for a free flu vaccine and a COVID-19 booster. Having both is a really important way that you can help the NHS this winter."
Are people coming to hospital with flu?
"Yes, we're starting to see cases of flu come through our Emergency Departments at Queen Elizabeth Hospital in Woolwich and University Hospital Lewisham. Several of these patients have been admitted to wards for treatment, and some have become so unwell that they've needed treatment in our Intensive Care Units."
What would you say to someone who isn't sure whether to have their flu jab?
"I'd urge anyone who's eligible to get it straight away as it's your best protection against influenza, which can cause complications even in previously healthy people."
What about COVID-19, hasn't that gone away?
"COVID-19 is still with us. Thankfully most of the cases we are seeing in our hospitals are less serious than in the last two winters. However, COVID can still be an extremely serious illness for some and it can lead to Long Covid which can really impact your quality of life."
How can you get your flu and COVID-19 jabs?
"You can get your vaccinations here at Queen Elizabeth Hospital and at a local pharmacy or GP practice. It is very easy to book online and for some clinics no appointment is necessary and you can just walk in."
Can I get my flu and COVID-19 jab at the same time?
"Absolutely, lots of clinics are offering both vaccines and it is safe to have them both at the same time."
What about if I am pregnant?
"If you are pregnant, flu and COVID-19 can cause serious harm to you and your baby. Both vaccines are safe. So make sure you get your free flu vaccine and COVID-19 booster."
Why do I need another COVID-19 booster?
"Even if you have had three or more Covid-19 vaccinations, or had the virus itself, it is really important you get the booster as your immunity decreases over time.  The latest booster provides extra protection against newer variants of the virus."
Check if you are eligible and book your COVID-19 and flu vaccinations today: selondonics.org/winter-vaccinations