Richard Douglas, Chair, NHS South East London, said: "It was great that so many people gave up their time to give us their thoughts and views.  We are developing health and care plans with our colleagues from across south east London and it is essential that we base these plans on local need. Hearing about what's important to people living in neighbourhoods across our six boroughs was insightful and will genuinely help us to ensure that any future plans are focused on local people. I am looking forward to further opportunities to engage our richly diverse communities across south east London."
Ranjeet Kaile, Director of Communications and Engagement, said: "It was fantastic listening to all the conversations and reading what people were saying online.  There were some great suggestions and we look forward to carrying on these conversations. It is really important that we listen to and hear from local people from the beginning as we develop our plans for the future. The webinars are only one way we are listening to local people as it is vital that we get people's views from different communities from across south east London."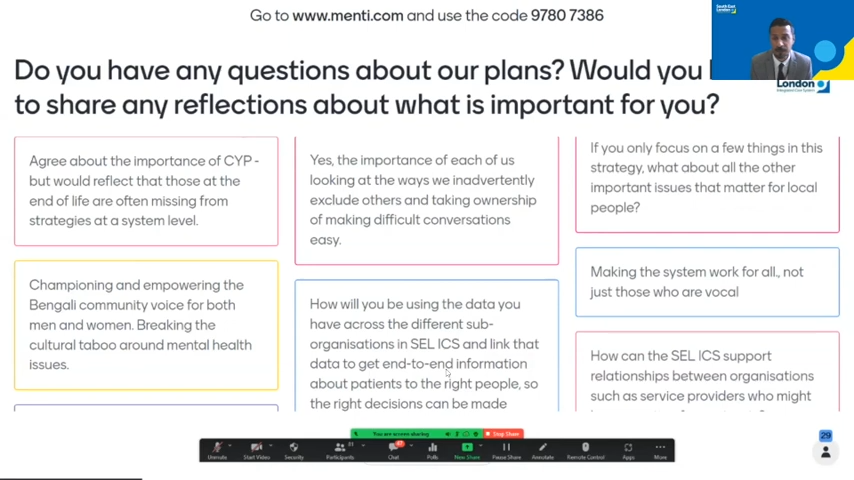 Andrew Bland, Chief Executive Officer  and Ben Collins, Director of Development for NHS South East London, outlined the objectives of the webinars and how they fit into the overall process of developing a new heath and care strategy for south east London.
Participants watched a short film explaining the Integrated Care System before sharing their views in small discussion groups and though on-line chat functions.
Local people told us that the following themes were important to them:
Prevention, health and wellbeing
A good start in life for children and young people
Access to high quality primary care
Joined up care for people with long term health needs
Effective care for people with complex long-term health and social care needs including frail elderly people
Better care for adults facing mental health challenges
If you were unable to join our webinars but are keen to ensure your voice is heard, please visit www.letstalkhealthandcareselondon.org
You can watch recordings of our webinars on YouTube – 22 July and 25 July.  You can also download the slides from 22 July and 25 July.
100 health and care leaders convene to help shape our strategic approach in south east London
In addition to the recent webinars with local people, South East London Integrated Care System also convened 100 health and care leaders from across the system to hear their priorities for future partnership working. The event at Kia Oval Cricket Ground on Friday 28 July was attended by local Councillors, leaders from the NHS, local councils, and the voluntary, community and social enterprise sector.
NHS South East London Joint Medical Director, Dr Jonty Heaversedge said: "The event was a great opportunity to co-design our shared priorities, and agree tangible ways for driving these priorities forward. The last two years have shown us what can be achieved when the system works in partnership".
Healthwatch's south east London Director, Folake Segun, said: "This is a real opportunity for people to be at the heart of decision-making. For people's needs to be the key driver for change. We must also deliver real change in the inequalities we see in south east London."
During the session, leaders identified opportunities for collaboration on some of the biggest issues facing communities in south east London, from addressing health inequalities, to improving rapid access to high quality specialist services when people need them. These insights will be used to inform future priorities for the system.